Nissan Complimentary Multi-Point Inspection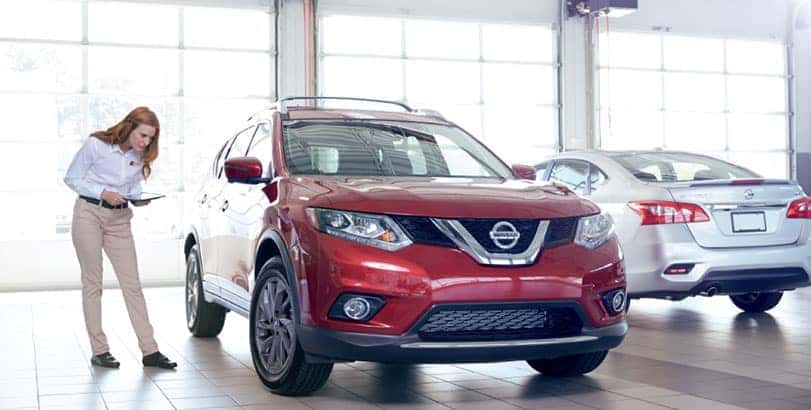 Nissan Multi-Point Inspection
Lang Nissan at Mission Bay Complimentary Multi-Point Inspection
The safety of everyone who comes in to see us is our top priority. We aim to make sure every car leaves in better condition than it came in, to get you from point A to point B as safely as possible. Our certified technicians work hard to accurately and efficiently diagnose each vehicle to make sure it is running optimally for miles to come.
Lang Nissan at Mission Bay is happy to offer complimentary multi-point inspections. This important, visual inspection allows our team to take a look at the overall safety and driveability components of your vehicle – is available with every service.
This multi-point inspection includes:
Engine oil and fluid leaks
Battery performance
Shock absorbers/suspension
Brakes and tires
Cooling system
Windshield washer and wiper system
Fluid levels
Lights
We use only genuine OEM Nissan parts which are designed specifically for Nissan models to help improve the health of your vehicle. These parts are typically a little more expensive than aftermarket parts available at garages, however, they are also more cost efficient, likely to last longer and are backed by warranty when installed by a professional at the time of purchase.
Lang Nissan at Mission Bay is the preferred service center for Nissan drivers in the San Diego, Chula Vista and Ocean Beach, CA areas.
Book your service appointment today!
By having our certified technicians take a deeper look at your vehicle, we are able to catch any car maintenance issues before they become a larger problem than necessary. This multi-point inspection acts as a prevention to save you time and money in the long run. Our team has proprietary information that other car garages do not have access to. What does that mean for you? We catch issues in their tracks and repair them using only genuine OEM Nissan parts that will extend the life of your Nissan, increase its value and restore it back to its original factory condition.
Benefits of coming to a certified professional over a car garage:
Our team is trained specifically in Nissan models
Guaranteed fast and efficient service
All repairs are made using only genuine parts and come with a warranty when installed by a professional at the time of service
Drivers in the San Diego area preferLang Nissan at Mission Bay for a variety of reasons. Not only for this multi-point inspection, but also because of our highly knowledgeable staff, comfortable customer waiting area and access to rental cars when services or repairs take longer than initially predicted.