Brake Fluid Exchange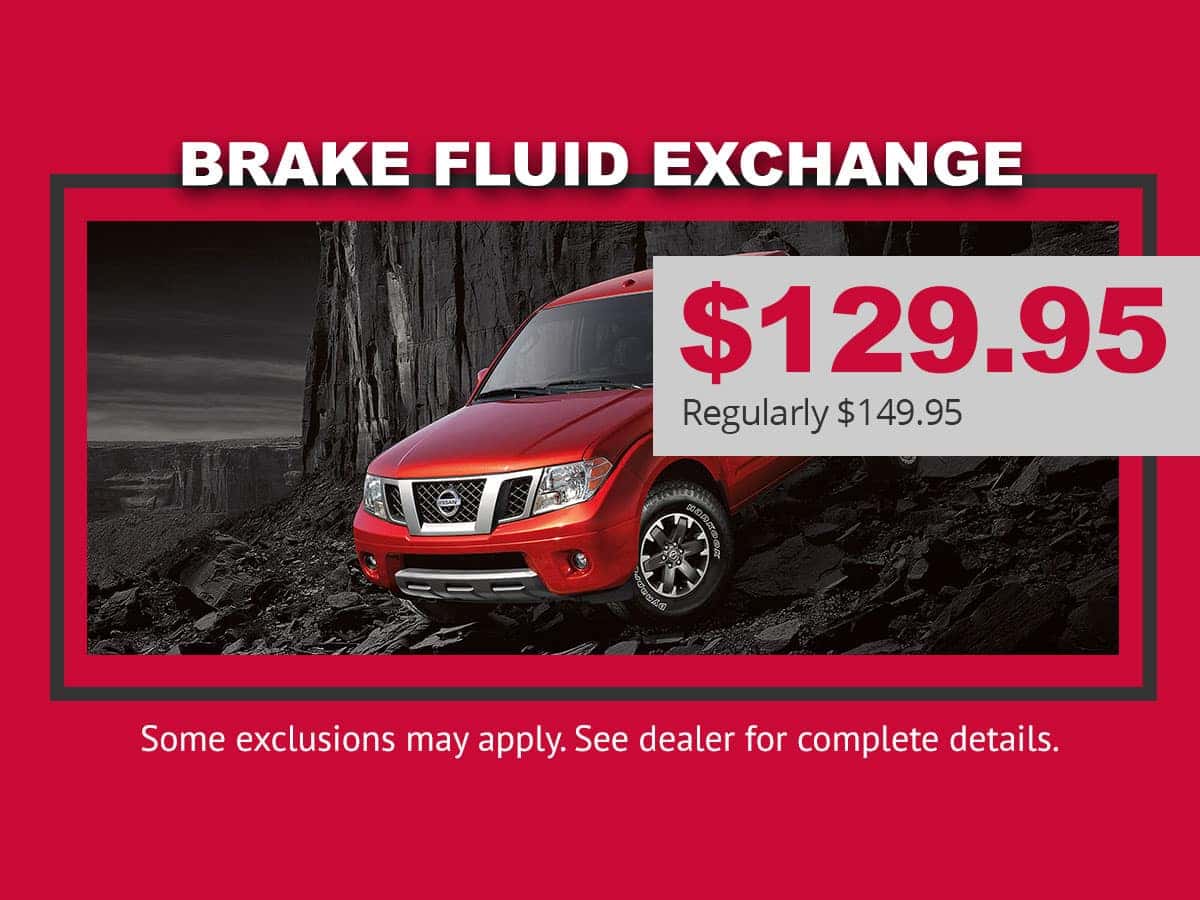 $129.95 – Brake Fluid Exchange
Regularly $149.95. Some exclusions apply. See dealer for details.

Lang Nissan at Mission Bay Brake Fluid
Brake fluid is responsible for moving the various parts of your vehicle's brake system. In short, the brake fluid plays a crucial role in making sure your brake pedal works properly when applied to either slow or fully stop your vehicle.
This important fluid is so commonly overlooked due to the fact that it needs to be changed too infrequently as compared to oil. However, throughout time, your brake fluid will absorb moisture and cause it to not work or perform as it should.
One of the first signs your brake fluid is low is when your brake pads start to show signs of wearing out. The more your brake pads wear, the more brake fluid is used to compensate. It is a good rule of thumb to have your brake fluid replaced every time you change your brake pads. A second and more serious sign is having a leak. If the leak goes unrepaired for too long, you are at risk for total brake failure. These leaks are often easily identified by checking for puddles around wherever you commonly park your vehicle which will typically be next to the wheels or under the hood. Alternatively, by turning on your vehicle and pressing on your brakes a few times, you will be able to notice the leak right away at it will be activated.
Before doing anything, it is highly recommended to check your owner's manual and bring it into factory-trained professionals to make sure this important job is done right to ensure the safety of you, your passengers and those around you.
The professionals at Lang Nissan at Mission Bay are here to give you the peace-of-mind you deserve when there are questions about the health and safety of your vehicle. When you bring your car into our certified service department, you can rest assured that we will do a multi-point inspection and diagnose anything that may be an area of concern. We always let you know of any unexpected issues that arise before starting the additional work, and only work with genuine Nissan parts. It is our goal to get you back on the road safely by providing high-quality repairs and customer service. We are happy to serve all those in the San Diego area.