30k Major Interval Maintenance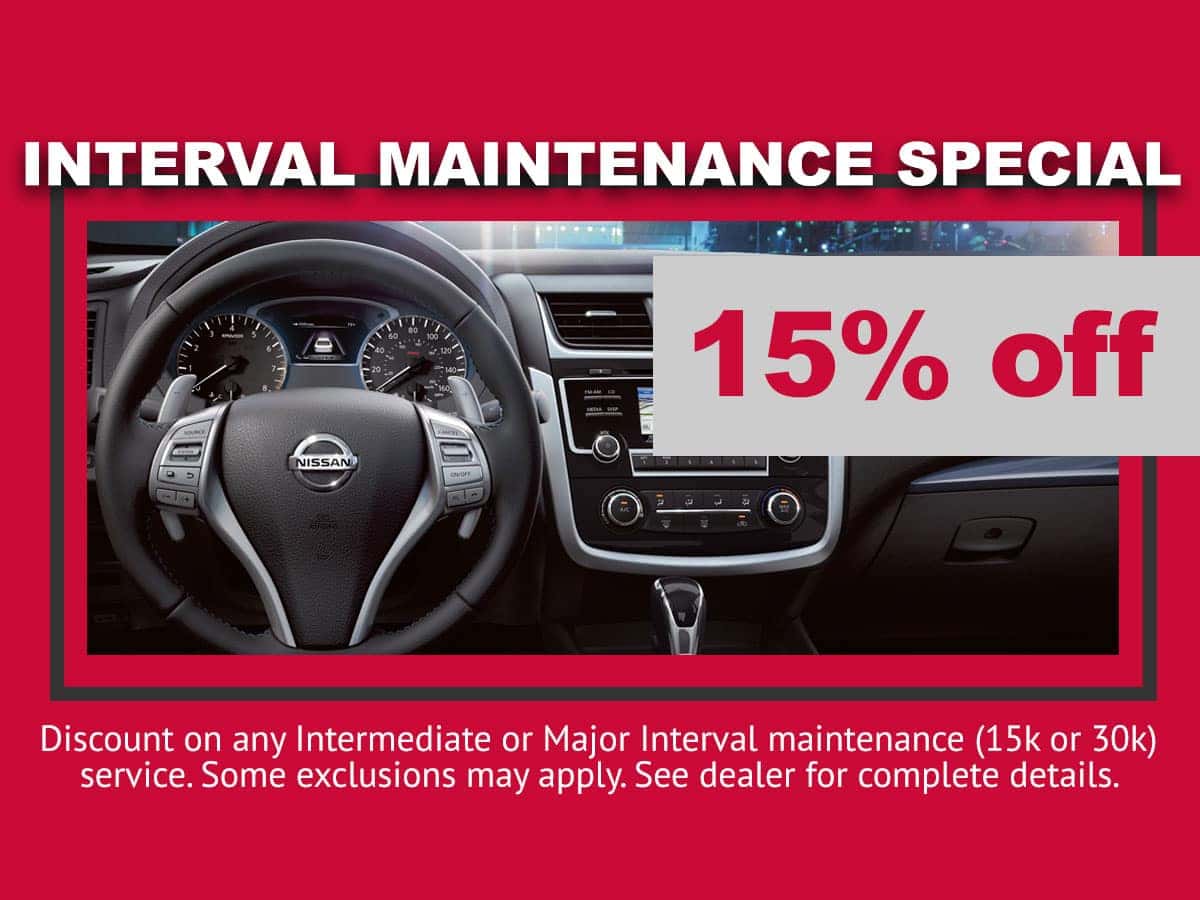 15% OFF – Intermediate or Major Interval Maintenance
For 15k or 30k interval maintenance services. Some exclusions apply. See dealer for details.

Lang Nissan at Mission Bay 30k Major Interval Maintenance
Keeping with your regularly scheduled maintenance, as listed in your owner's manual, ensures a long life for your vehicle. During these in-depth checks, our factory-trained technicians are able to get a close look at the overall health of your vehicle.
During your 30k maintenance, our professional teams follow the maintenance schedule as outlined by the owner's manual for that specific model, ensuring that our customers are getting the services they need and nothing they don't.
Similarly to your 15,000-mile intermediate interval maintenance, for your 30,000-mile or 24-month major interval maintenance, we do a thorough replacement, rotation, and inspection of some of the items listed below:
Oil change and filter replacement

Tire rotation

Brake fluid replacement

In-cabin microfilter replacement

Drain and refill transmission fluid

Inspection of: Axle and suspension, brake lines and cables, and much more
Your 30k interval maintenance is crucial to making sure your Nissan is running optimally. These interval maintenance checks are the best prevention to making sure not costly surprises pop up later when you least expect it.
Even more so, our professionals are constantly trained and kept up-to-date with the latest technology advancements and newest Nissan models. Having access to this proprietary information allows our technicians to be able to diagnose and quickly repair things in your vehicle that other uncertified technicians may miss.
Our technicians use only genuine Nissan parts for quality and long-lasting repairs done to your vehicle. We believe every purchase and repair is an investment and should be done right the first time. For those unexpected maintenance repairs, we also offer special financing options that are convenient for you. Repairing your vehicle right the first time and using the best parts to replace anything that is malfunctioning allows your Nissan to have a long life.
At Lang Nissan at Mission Bay, it is our mission to provide only the highest quality service to each of our customers, which is why before any additional and unforeseen work is begun, we always inform our customers before starting.
We are happy to be the trusted service center providing outstanding customer service to those in the San Diego area.